Chris and Chloe joined us this week for a romantic week fishing, well we are sure that is how Chris sold it to Chloe when they booked nearly a year ago. But it turned out to be a perfect week for them both with Lac Lucie doing the business for keen angler, Chris and the weather being spectacular for the time of year, meaning that Chloe could be comfortable sat with Chris beside the lake and also enjoy the hot tub by the chalet.
Chris was very keen to get a new PB, especially as this was his first fishing trip to France. It would appear that he fishes every spare minute he has in the UK with his uncle working for a well known bait company and shift work meaning that he could get some good sessions in each week. Chloe, on the other hand, has very little interest in fish or carp and came for the company, to escape from work for a week and to read and that she certainly did.
Having the lake to himself meant that Chris could spread his rods out across the area without having to worry about impeding on anyone else's patch. He watched the lake very carefully all week to see where the fish were showing and followed them with his bait accordingly. He decided to row out to his chosen spots when they were at the far end of the lake and by the end of the week he had mastered the art of going in a straight line, to the point where on the Friday morning he managed to row them out in the dark.
Having arrived late on the Saturday night Chris and Chloe had not been able to get to the supermarket on arrival so we took them on Sunday morning straight after breakfast whilst Nigel sorted the tackle hire out. They had opted for the food package so there was not much to get, just snacks and a few beers so we got back to the lake quickly and Chris was straight down to the lake to get his rods out before worrying about his bivvy etc. As he was mainly focusing on carp he had opted for the maple syrup house boilies with matching glug, pop-ups and hookers but had gone for a bag of spicy fish boilies just to mix it up a bit.
The week did not start as Chris had hoped as he was not keen on getting a catfish but his first fish out was a 30lb cat. We all hoped that this had not set the pattern for the week as we all know that if you are not catching the fish you want then it doesn't always make for a happy angler! But Chris was still optimistic and said at least he hadn't blanked.
Whilst Chloe spent the day by the lake with Chris she preferred the comfort of the chalet beds at night time and left him with the sounds of the deer and owls and watching the stars. Chris zipped himself and settled in for the night but apart from a few splashes there was no fish on the first night.
On Monday, after a breakfast baguette on the bank Chris and Chloe settled in for the day and he landed this pretty 12lb common.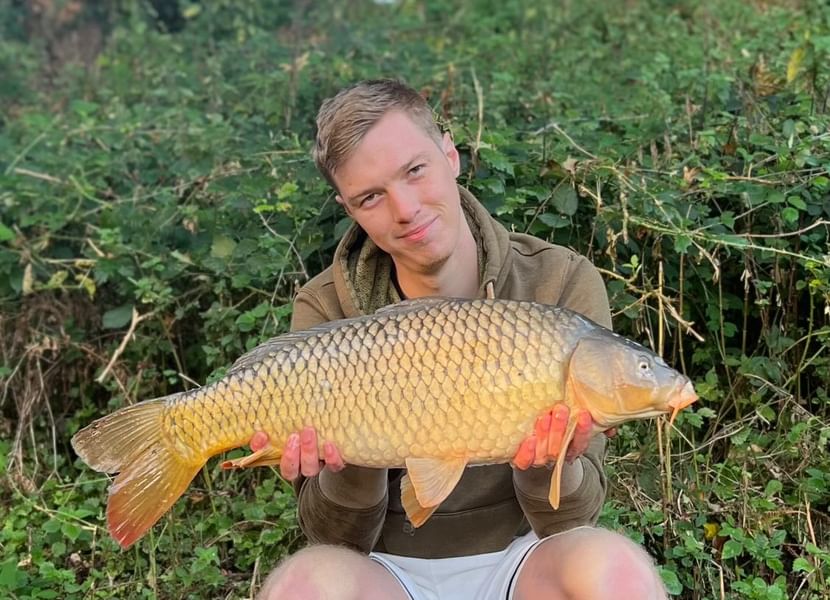 On Tuesday this nice 25lb 4oz was landed just before they both went up to the chalet for the night as Chris had promised he wouldn't stay out all week.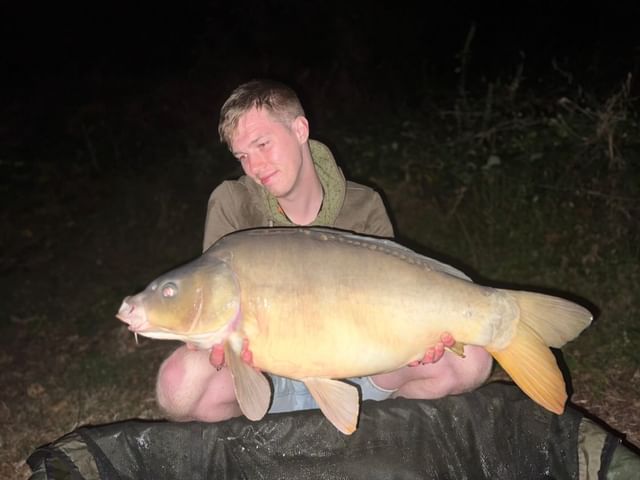 On Wednesday we got down to deliver the breakfast and Chris was not a happy man. He had spent ages getting a big carp to the bank on Tuesday evening, managed to get it in the net and just as he was lifting it out to bring it to the cradle it managed to sneak out the side of the net which Chris had not rolled up completely. It was obviously the biggest fish in the lake and Chris was very frustrated with himself as you can imagine.
The rest of the day proved fruitful though and he had a nice 24lb mirror in the afternoon and a 19lb common, again just before Chloe went up for the night.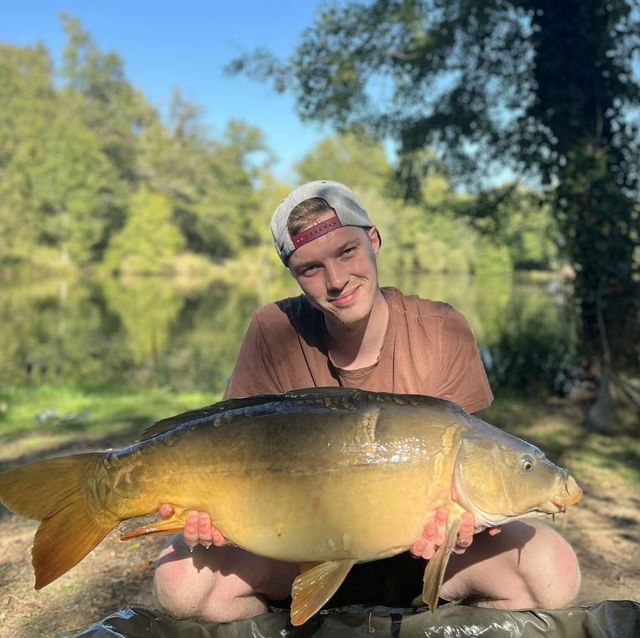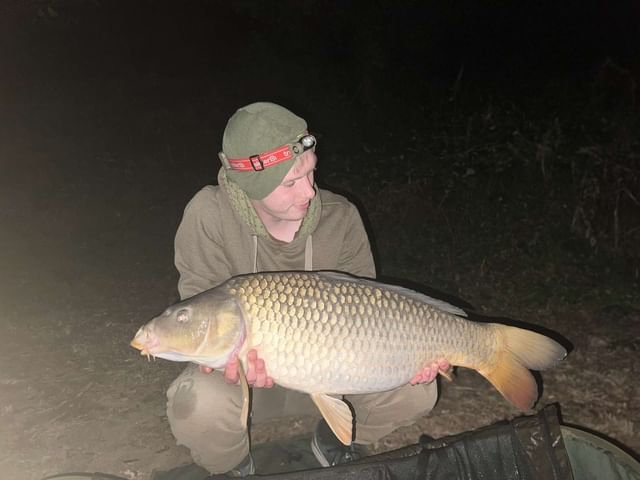 His PB, previously at about 28lbs had not been beaten though and although Chris was very happy that he was catching about 1 fish per day, and happy that they were all decent fish he was starting to think that this wasn't going to be his week. They had chosen October because they thought the fishing conditions would be better with autumn on its way and they were not expecting a late summer heatwave.
Thursday afternoon bought another bite – this time a 24lb 15oz mirror – again a nice fish but not a PB…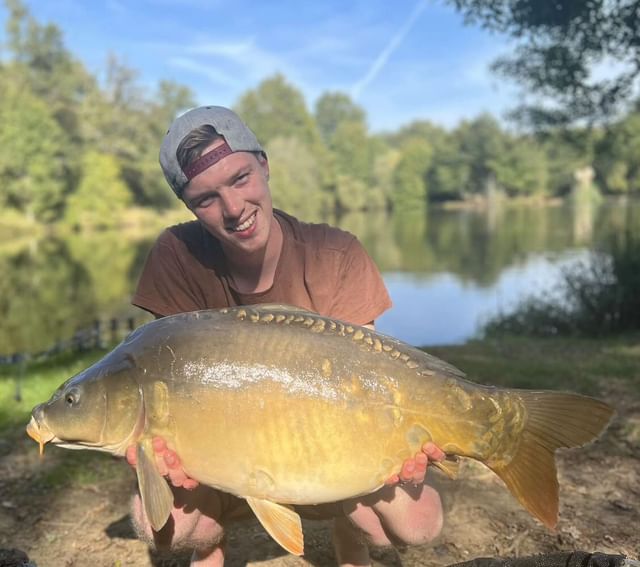 Thursday night Chloe went up to bed a bit earlier as she had been asleep on Chris' bed chair most of the evening. Lucky she did as he called her at 1am on Friday morning as he was on a fish and knew it was going to be a PB and he needed her to come and take a photo. After a little while playing it he finally and successfully got it on the bank and made sure all of the water was out of the weigh sling.
Finally a PB at 33lb 14oz and a very happy Chris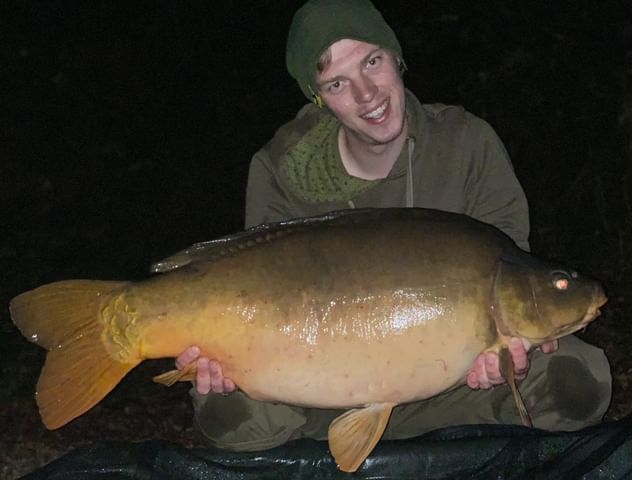 Rather than putting his rods back out Chris went back up to the chalet for a few hours sleep before setting off in the rowing boat before dawn on Friday morning. There was always the hope that he could better this 33lber and Chris is a very optimistic young man. But Friday was quiet, the temperature was starting to drop and the lake was still. With an early departure time on Saturday morning the couple called time on Friday evening and enjoyed their last few hours at the chalet.
Final catch report zero babies, 2 at 10lb+, 3 at 2-lb+ and 1 at 30lb+
For our last week of our first season it has been an absolute pleasure to have Chris and Chloe with us and we have thoroughly enjoyed their company. Hope to see you again someday to hopefully beat that PB again with us.