Joining us on Lac Lucie this week was Nigel and Carol who, like the people on the Kingfisher lake, came from the south west of England and were experienced salt water anglers. They had been to Carp France the previous year, with family members, when it was run by the previous owners. On that occasion they had both blanked. They had returned to try again…
After a long journey from Bristol to Stanstead to catch the morning flight they arrived at the lake around lunchtime and set up their bivvys on the top bank. Carol was on the right and Nigel on the left of the lake. They cast their rods in for a few hours before the evening meal and sat and enjoyed the peace and quiet and watched the wildlife.
They had decided that they needed an early night after the travelling to ensure that they would wake up refreshed ready for Sunday.
They cast out again on Sunday morning and we wandered round to see them, Nigel (B) admiring their casting ability but concerned that they were not really hitting the spots where the fish are known to feed. They fished throughout the day, stopping for their evening meal again, but heading back down to the lake for a few more hours after this. There were still no fish to be reported and we were all concerned that despite some great efforts this was going to be a repeat catch report as last year.
On the Tuesday Nigel (B) suggested that they might like to try and use the bait boat and Nigel (P) admitted that it was not something that they had used before but was willing to give it a go as they were really desperate to make sure that they caught something. After a few basic instructions they were off, sending the boat out with a pile of Nigel (B)'s boilies and pellets to their spots. And they sat and waited.
The next morning we were pleased to hear that Nigel (P) had caught a catfish – only a small 14lb cat – but a catch none the less and they were now off the mark and ready for more.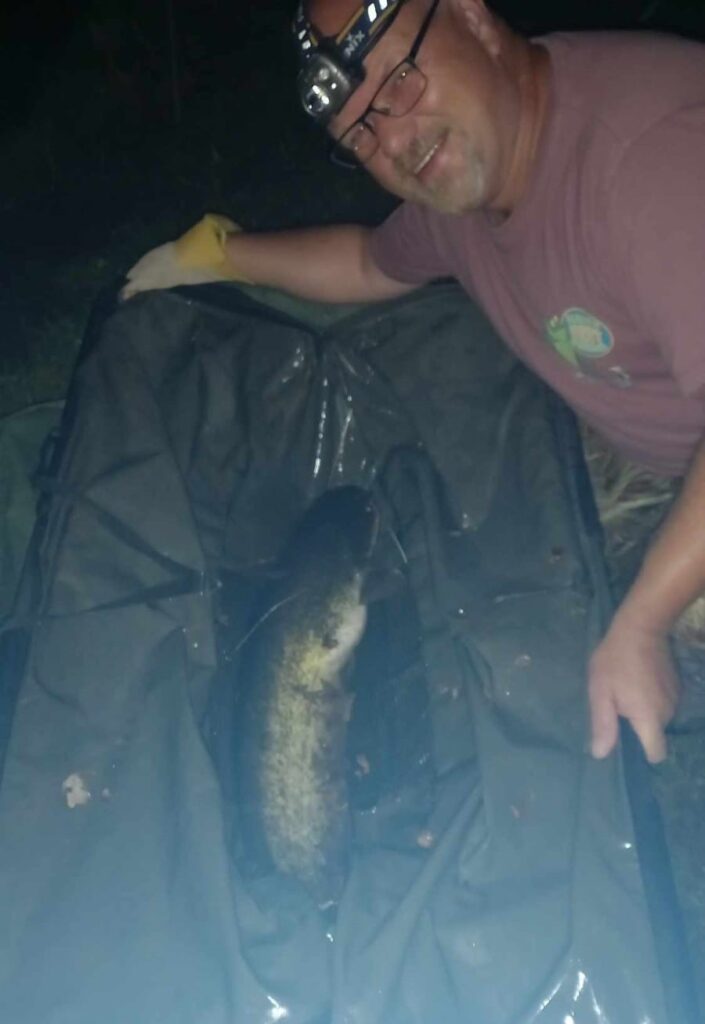 For most of the week they fished from early in the morning until late afternoon and then went back down until it got colder and darker – preferring the warmth of the chalet and comfort of the beds. They also enjoyed the hot tub, choosing to spend some time in there during the heat of the day and having a break before the evening meal.
Carol was the next to catch – this lovely 31lbs 4oz mirror from the left hand bank.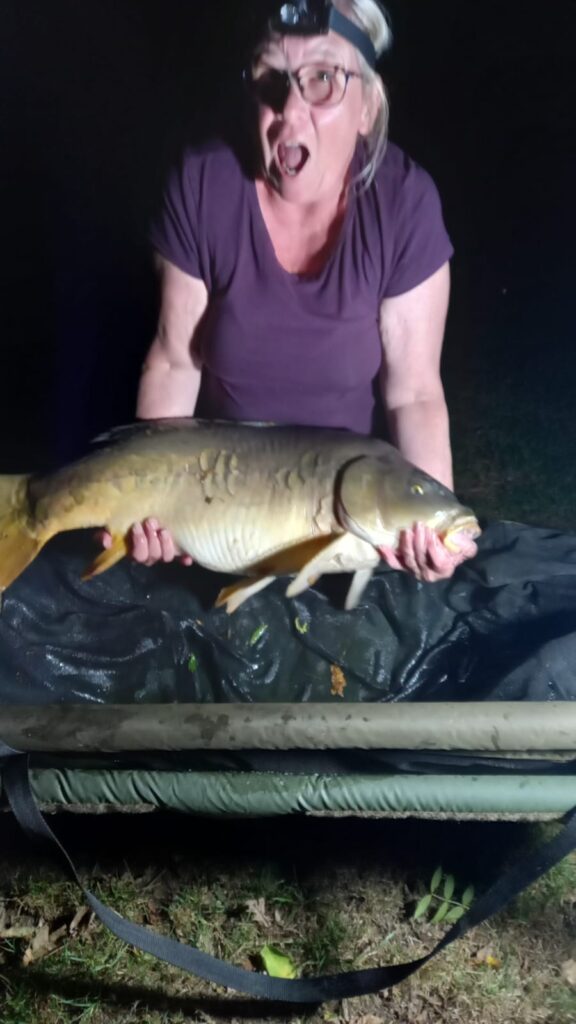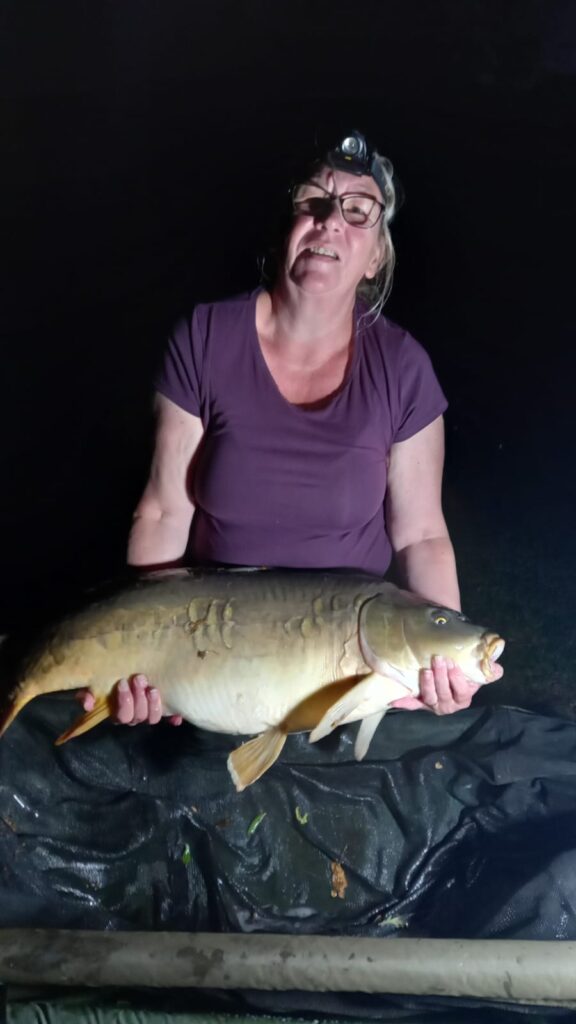 Thursday was Nigel (P)'s birthday and it would be the perfect day to catch a fish for Nigel (P). When we went down to see them with their breakfast baguettes on Wednesday Nigel (B) suggested that a particular spot was baited up before they came to the house for their tea and then to put a rod out amongst it with the bait boat when they went back down. Nigel (P) said that he was planning on staying out all night if he had to just to be in with a chance of catching a carp on this trip.
How delighted was everyone when Thursday morning we were greeted with a very happy Nigel (P) who had caught a new PB with this 40lbs 7oz mirror. Not the best photo of the fish but he was a very happy man as you can see!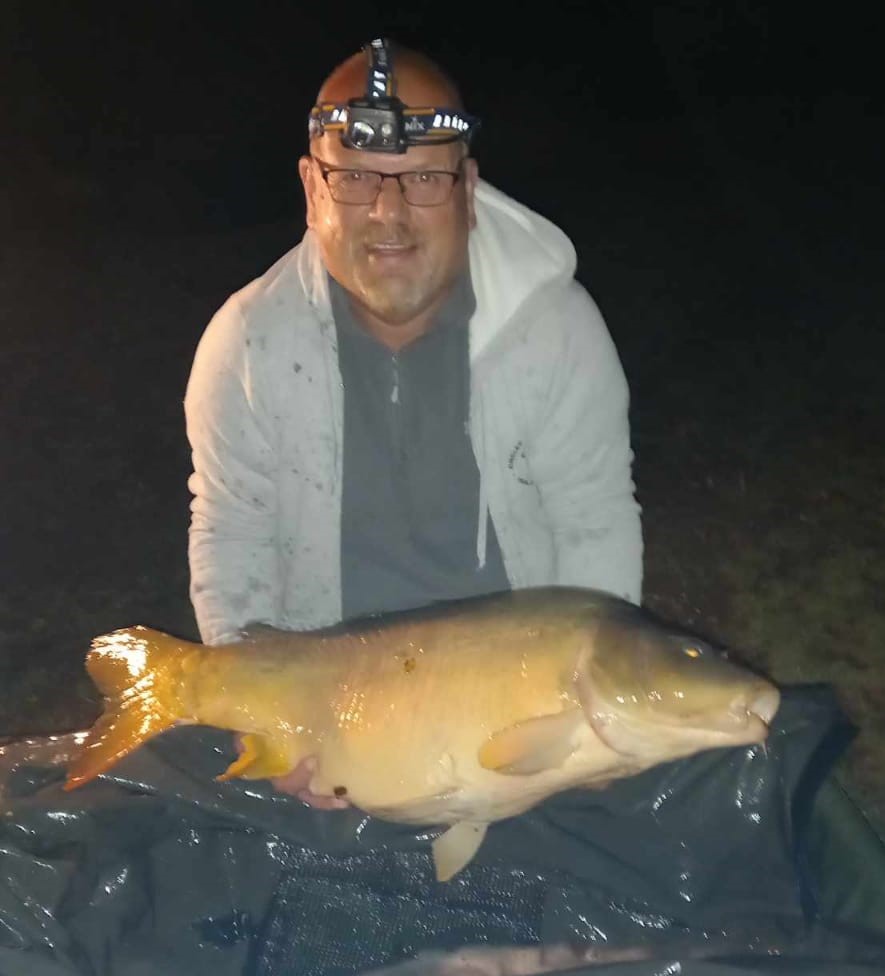 Almost as happy as he was with his birthday cakes!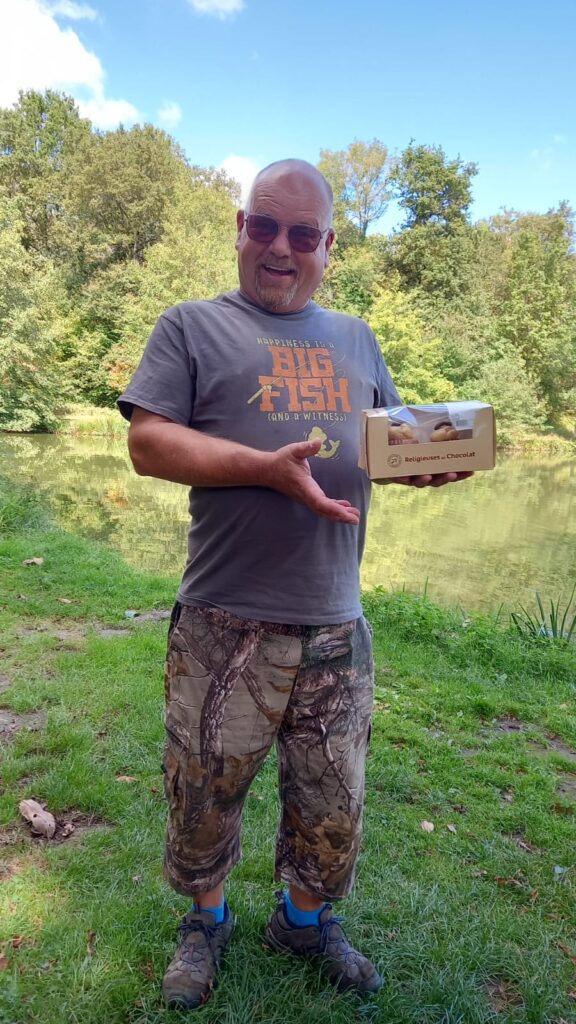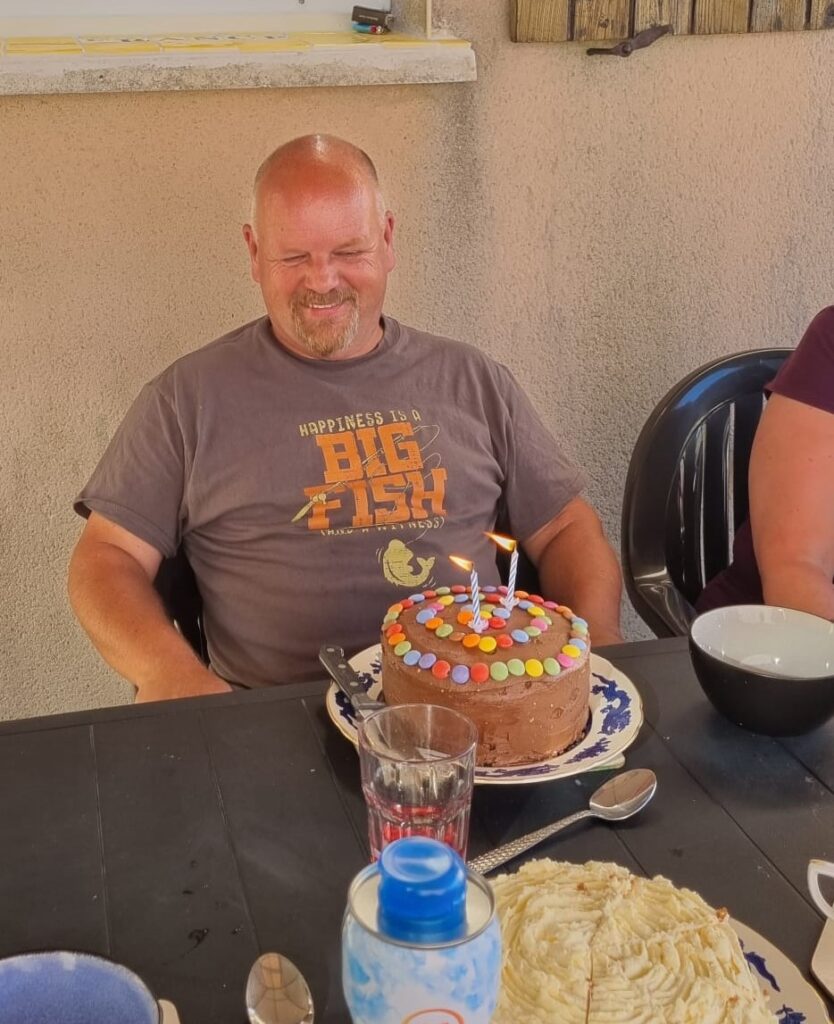 So not a great week from a catch perspective for this lovely couple but they thoroughly enjoyed their week and have already rebooked for next year….and Nigel has ordered himself a bait boat!
Final report 1 catfish, 1 at 30lbs+ and 1 at 40lbs+
We look forward to seeing you both again next September.