It was a strange first French fishing holiday for Frank, Tony and Matt from the North West of England, starting with their flight being diverted to Bordeaux, where we collected them, eventually getting back to the lakes at 4.30am. All were so excited to be here though and all hoping to beat their PBs before the end of the week.
Sunday started with a full cooked breakfast, late morning, at the house before getting everything set up in the afternoon. All three of them decided where they were going to fish without the need for a draw and all decided to go along the main bank, with Tony at the swim nearest the chalet, then Frank and finally Matt nearer the shallower part of the lake.
It was a very warm day on the Sunday with the temperature rising to over 30°C by late afternoon and there were not a lot of signs of fish showing on the lake but all were optimistic and loving the peace and quiet and just being by the lake.
Optimism was running high when Matt caught his first fish, a 33lbs 3oz common on the Sunday night, beating his UK PB by a good few ounces. A nice looking fish.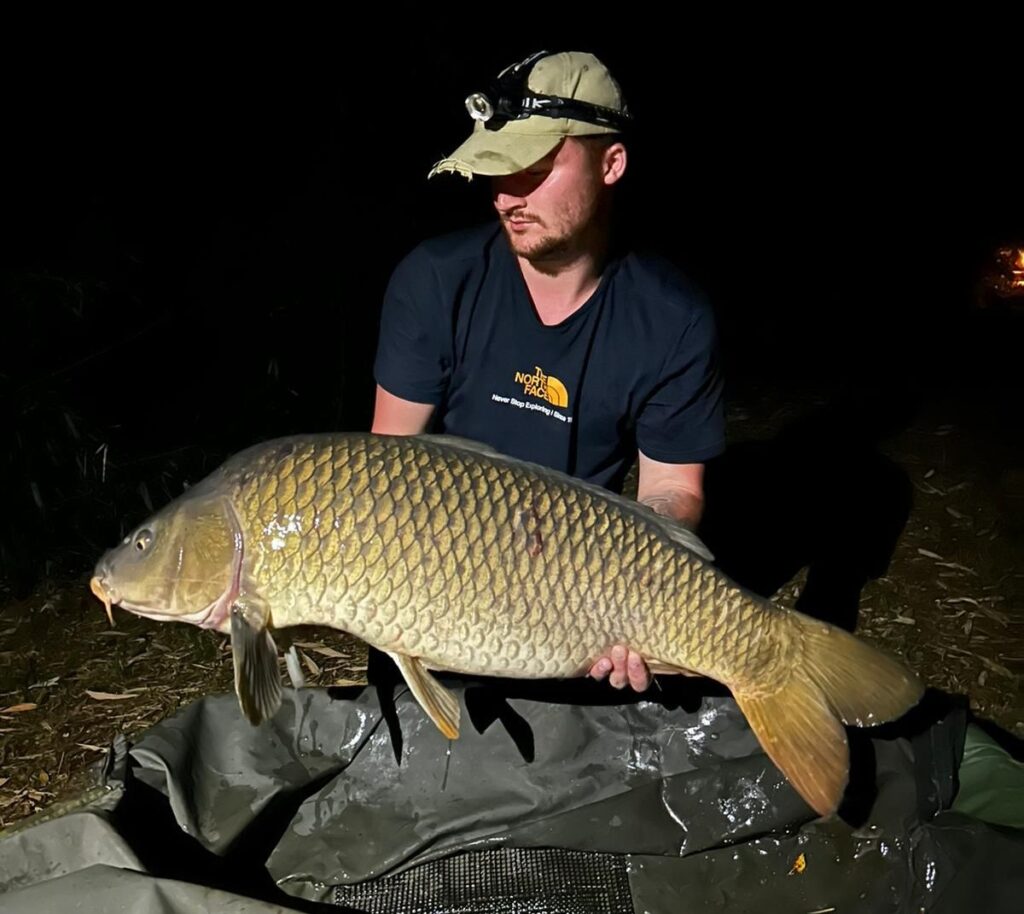 On Monday, Matt caught again, only a little one but very pretty with a lovely dorsal fin, so was worth sharing.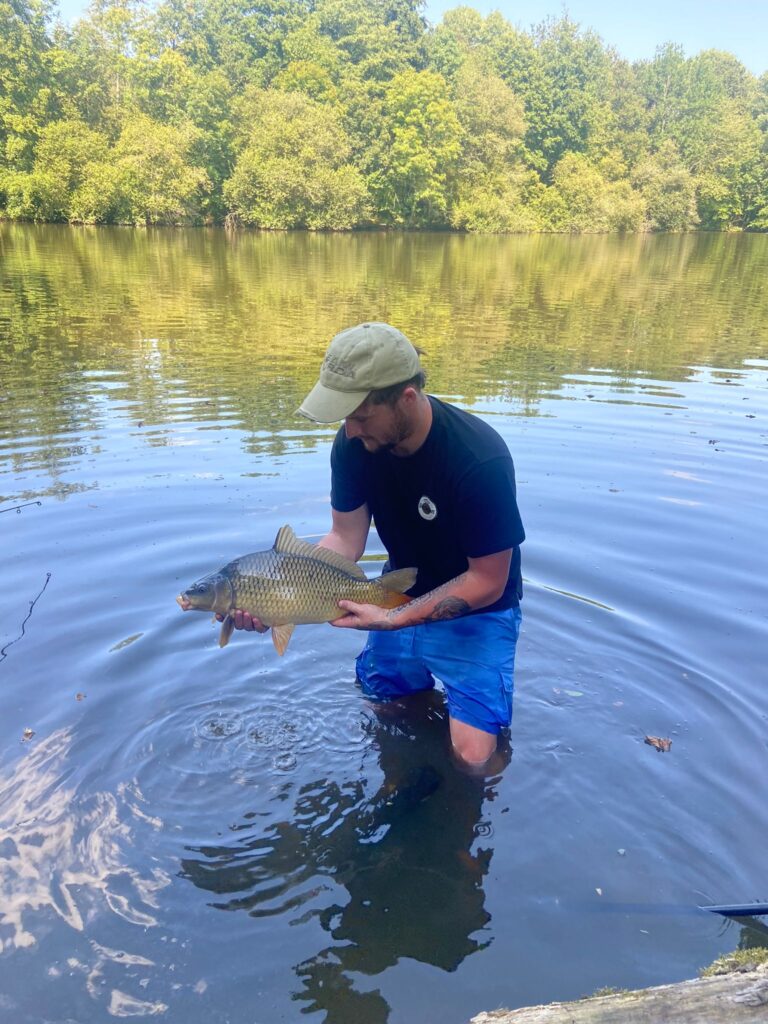 The temperature had continued to rise, peaking on the Thursday afternoon at nearly 40°C and not dropping much below 25°C at night. Whilst they were enjoying the sun, jumping in the pool and having a beer or two, the three of them started getting a bit despondent and Nigel treated them to a lift to the pub on Wednesday lunchtime, just to get a break from the sun….or so he said!
On Wednesday afternoon they all moved onto the side bank, where it was more shady but still had no luck and they were beginning to think that they were going to go home with just the two carp.
Thunderstorms were forecast Thursday night but they thought it would just be a passing storm. Just before the rain came Frank's alarms went off and he was so relieved when he landed this 36lbs 4oz mirror, exactly from where Nigel said he would. He was well happy with a new PB.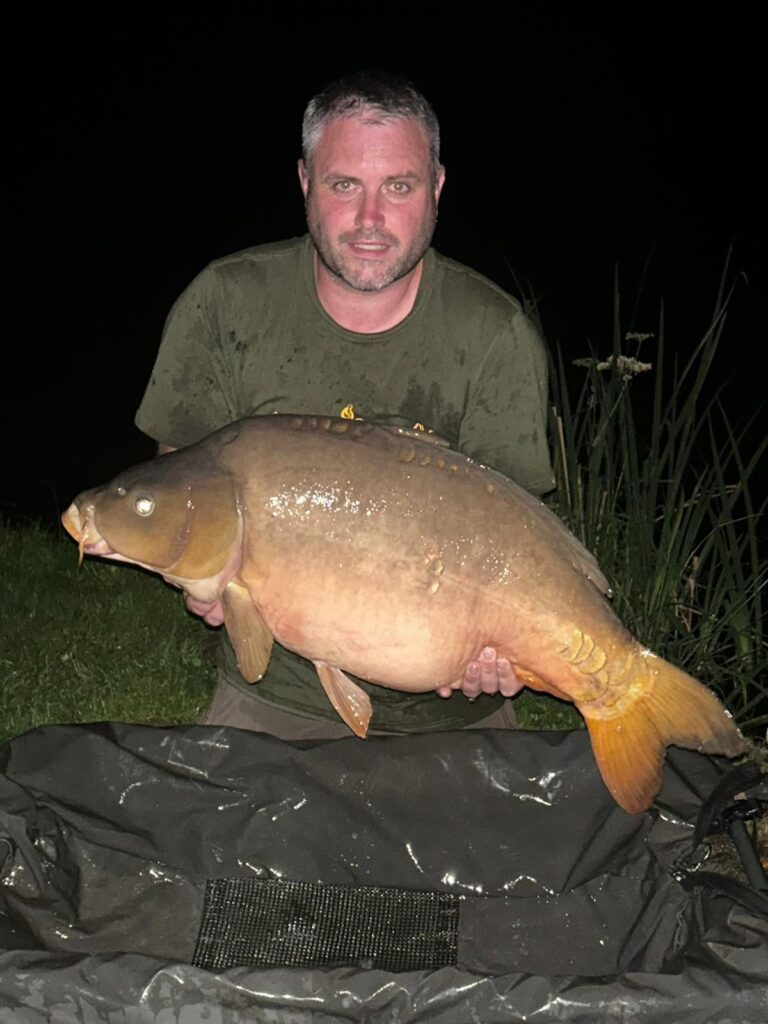 And shortly afterwards Matt beat his PB again with this lovely 42lbs common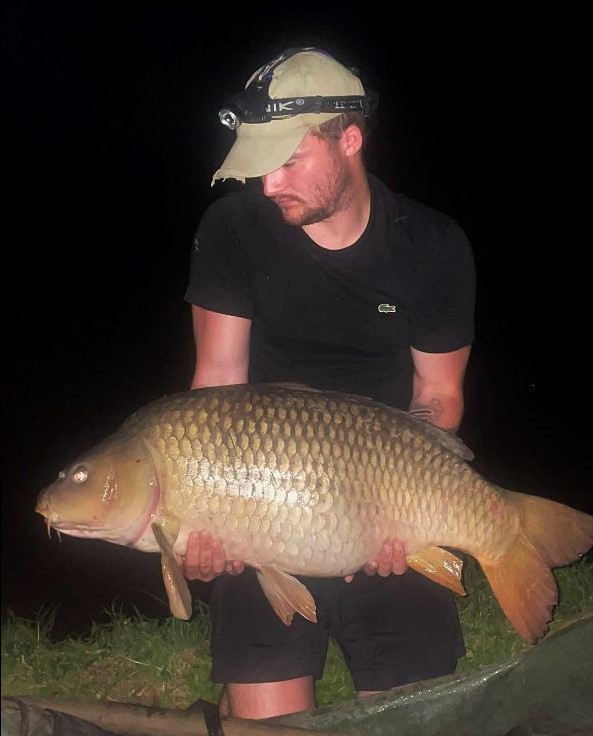 Just after midnight the storm came, and as we have quickly learned, France has the longest storms, lasting until about 6am. They made it through the night, with not much sleep, enjoying the lightening that filled the sky.
So Friday arrived and Tony thought he was going to go home with nothing but some lovely memories of a great trip. We were on our way back from the supermarket though when Frank messaged us asking for more beer as they had to celebrate. Tony had finally managed to land this 26lbs common – again a new PB for him.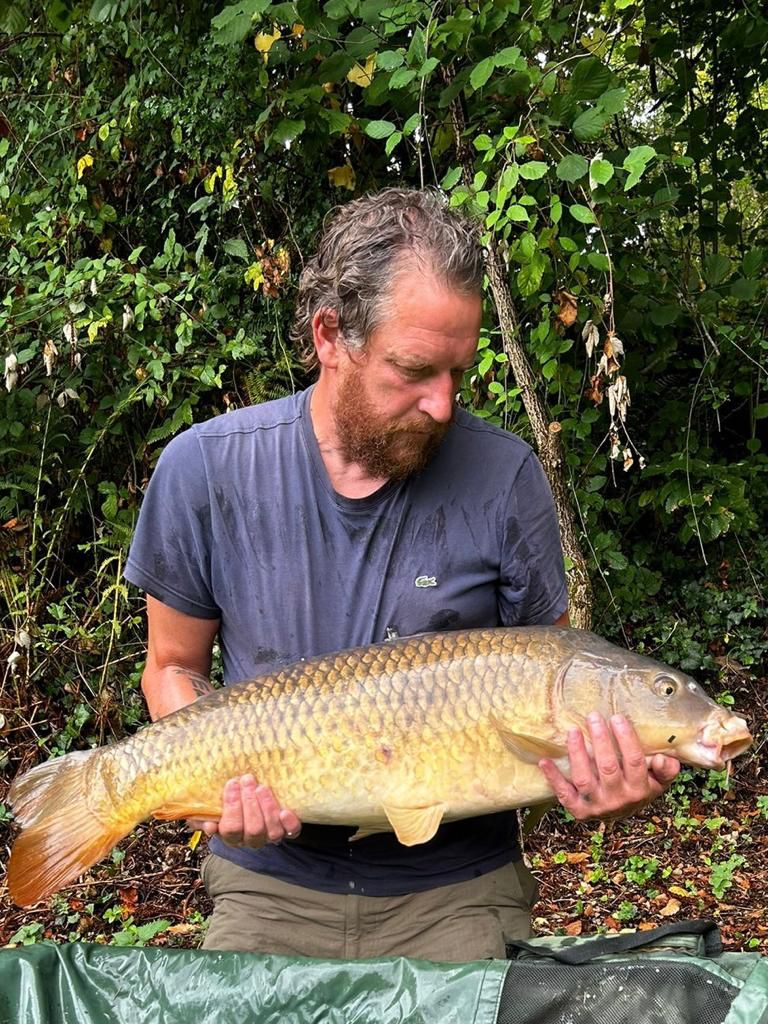 So, not quite the numbers they were expecting out this week but the extremely hot weather played a massive part in that. Final catch report was 1 baby, 1 at 20lbs+, 2 at 30lbs+ and 1 at 40lbs+. All fish were caught on the house boilies.
We are hoping the lads will all come back, or that Frank will bring his family next time. Either way, they would be very welcome anytime.